GPA Europe September 2022 Newsletter
The Hot-Seat
A message from our Chairperson, Gary Bowerbank.

"I hope you have all had a chance to recharge over the summer. Our industry remains high on the media agenda, not only with the high energy prices that are impacting all of us but of course the continued pathway to net zero. The UK announced the next batch of Power CCUS, hydrogen & ICC projects (Cluster sequencing Phase-2) I am sure more will follow. It does really feel that Hydrogen and CCS have really reached a point of no return. More and more industrial scalp projects will come. Something many of our member companies will be involved in in one way or another. I expect there will be much discussion on these topics in our Annual Conference in November. For details www.gpaeurope.com/events"
---
GPA Europe Renewable Gas Webinar
22 September 2022
In conjunction with our Renewable Gas KSI Team, we are delighted to bring you an afternoon of high-quality presentations from ABSL, Transform Materials and ENGIE directly to you, for free. Join us on Thursday 22 September for our 2-hour session starting at 12pm BST (1pm CET).
We will update you via our website, gpaeurope.com/events, and on our social media platforms as our plans take shape. Don't forget to connect with us on LinkedIn, follow us on Twitter and join us on Facebook.
As always, we want to hear from you, our GPA Europe members. If you have topics of interest or would like to be involved in future virtual events, please do get in touch with us at [email protected].
---
GPA Europe Annual Conference 2022
Technip Energies, Paris
14 - 16 November 2022
Technip Energies will host the GPA Europe Annual Conference from 14 to 16 November 2022, providing the perfect platform for three days of high-level networking, discussion and debate.

Our Annual Conference will once again combine with our Young Professional Training Day and AGM.

We are planning some exciting activities, alongside high-quality technical presentations. We are delighted to present our draft 3-day outline to you: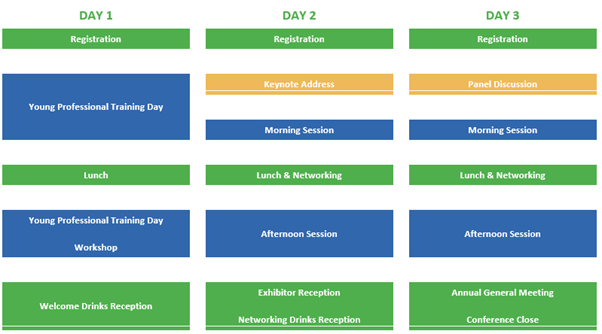 Registration will open in September 2022 - Save the Date!

Keynote Address
Make sure you mark your calendar for the Opening Keynote – Nicolas AIMARD, Vice President Process Technical Line in the new TotalEnergies One Tech branch which is a new organisation supporting all industrial and R&D activities of TotalEnergies from oil and gas upstream to downstream, renewables and new energies will take the main stage.

Sponsorship and Exhibiting
Have you thought about sponsoring or exhibiting? Our conference provides a direct marketing channel to commercial and technical leaders from the whole gas processing value chain.

Both our Sponsorship and Exhibition packages include free conference passes, prices can be found within our Sponsorship Brochure.

We have space for our member companies to exhibit. Your stand will be located in a central area for two days, where all delegates converge. Tuesday evening is our Exhibition Event with snacks and drinks for delegates and TechnipEnergies employees.

Get the latest event developments – connect with us on LinkedIn, follow us on Twitter and join us on Facebook.
---
In Brief
Our May 2022 Issue of In Brief is out on the streets - Check it out!

This issue reports on the GPA Europe Virtual Technical Conference held in November 2021 as well as our New Energy Webinars.

We have our regular 'View from the Top' by our Chairperson Gary Bowerbank, discussing 'A welcome return for major in-person events'.

The lead article has been contributed by Gas Treatment Solutions BASF. The article is titled 'OASE digilab: Efficiency gain in gas treatment'.

If you would like to contribute towards our November 2022, we have an opportunity to get involved. A chance to promote your name through the industry.

Please contact the GPA E Team for more information - [email protected]
---
Paper of the Month
This month we are looking back to a presentation from Marine Juge from ENGIE, who presented during our Virtual Webinar in October 2020.
"GERG (the European Gas Research Group) completes first stage of flagship biomethane project for CEN and the European Commission"
"GERG is pleased to announce the successful completion of the first phase of the European Commission funded project on removing barriers to biomethane injection in the natural gas grid and use as a vehicle fuel.

There is huge potential for biomethane transported in the gas network to play a significant part in decarbonisation of our energy system. As a substitute for natural gas, it allows use of existing infrastructure, while complementing intermittent renewable energy sources. However, some contaminants, inherent to the biomethane production processes, can be present in biomethane at a trace level. Depending on their concentration, these trace components (not present in natural gas) can interact with the gas chain infrastructure, and engines and boilers.

Two standards regarding biomethane have been published:

EN 16723-1: specifications for biomethane for injection in the natural gas network;
EN 16723-2: automotive fuels specifications.

Limit concentration values are however lacking real world data. This can be a barrier for the development of biomethane in Europe as limits can be over prescriptive. For this reason, GERG and CEN launched a project in 2016 with the aim to identify the associated acceptable threshold for gas appliances and infrastructure. This paper present the results of the project."
---
Sponsorship and Exhibition Opportunities
We provide a direct marketing channel to Directors and Process Engineers within the natural Gas Processing Industry.

We have multiple sponsorship opportunities at our events, as well as advertising within In Brief and our Newsletter - contact us for more information.
---
Gulf Energy Information
Our media partner Gulf Energy Information has launched a technical publication, H2Tech, serving engineers and professionals in the hydrogen sector.

If you would like to register for a free trial subscription to the weekly e-newsletter or the quarterly magazine, just click on the graphic below:

If you have news you would like to share with our members, please email us at [email protected]